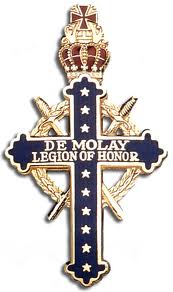 2023-2024 Officers
of the Maryland Preceptory
| OFFICE | NAME |
| --- | --- |
| Dean | Brett T.J. Bean |
| Vice Dean | Gary Neal |
| Secretary | Randy Watson, PD |
| Treasurer | Richard Naegele, PD |
---
What is The Legion of Honor?
The Legion of Honor is the highest Honor conferred by the International Supreme Council of the Order of DeMolay. It is awarded in two versions:
The Active Legion of Honor (red cord) is conferred by DeMolay International upon a Senior DeMolay, who has attained the age of 25, for outstanding leadership in some field of endeavor, service to humanity, or for success in fraternal life, including adult service to the Order of DeMolay.
The Honorary Legion of Honor (white cord), is confer upon a Freemason, who was not a DeMolay, but has performed unusual and meritorious service in behalf of the Order of DeMolay, or who has evidenced a spirit of cooperation and appreciation for the Order of DeMolay.
Like the Chevalier Degree, the Honoree must not know of his nomination.